The idea of "food sovereignty" is nearly 20 years old, and most folk still don't quite know what it means. To be fair, the term 'sovereignty' does no-one any favours. It sounds like it might have something to do with nation-states. It could also be a slightly more pretentious way of saying 'food self-sufficiency'. In truth, the one liner version of food sovereignty is fairly simple: "it's about having a democratic food system for the first time". Which almost immediately begs the question: so what does this actually look like?
To find out, you could thread through a fairly lengthy and dense academic definition. Or, if you live in the San Francisco Bay Area, you could just visit the newly occupied Gill Tract. Because yesterday, on Earth Day, dozens activists took over a piece of land controlled by the University of California at Berkeley, and dedicated it to food sovereignty. Right now, they're planting 15,000 seedlings.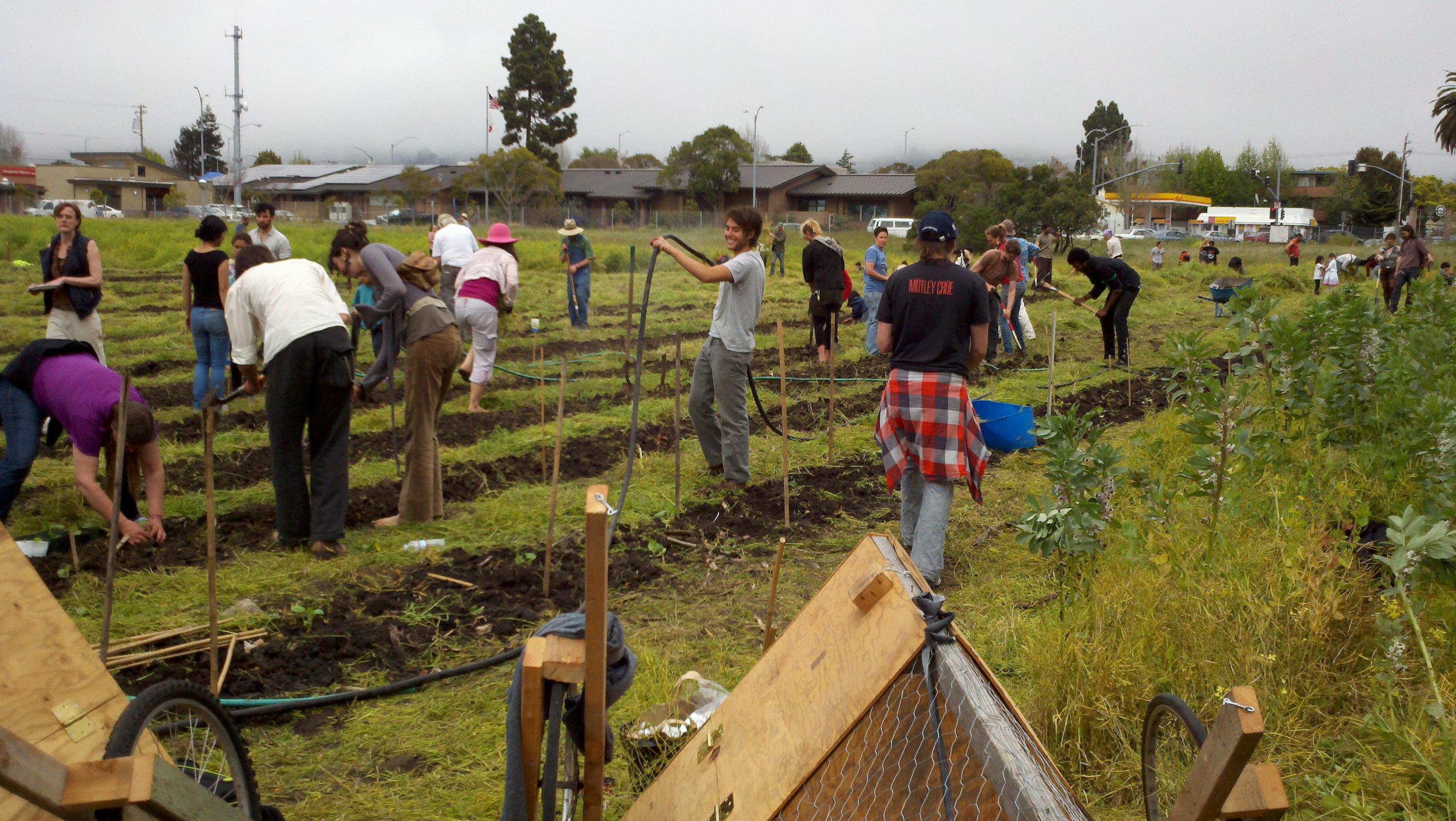 Photo Credit: David Id/Indy Bay
The wires are already buzzing with news about the occupation. I'm drawn to it for a number of reasons. First, it's terrific agricultural land, of which there is a dearth in the East Bay, and activists are busy using it to grow food. Second, the protest is very pointedly a protest about the privatization of the university. The organizers are frustrated not only with the dwindling size of agricultural land, but also at a broken model of public education that requires the university to asset strip itself by selling off its best land, and then to pimp itself out to the private sector to fund public education.
The University has responded by saying that the land isn't going to be developed, but is being used for agricultural research. Member of Occupy the Farm, Anya Kamenskaya, told me that "We're not trying to demonize any particular kind of research, but the genomic research being done here is being done everywhere, whereas the kind of sustainable agriculture [for which the plot became famous in the 1960s] isn't."
"Most urban areas don't have an area like this, and with food insecurity so high in the East Bay, this could be a valuable place for tens of thousands of people," Anya continued. It'd be a return to the idea of a public university that Berkeley seems increasingly to have forgotten. The organizing is, unlike the university, open and radically democratic. The San Jose Mercury News quotes the irrepressible Gopal Dayaneni saying this: "Occupy the Farm is committed to farming; that's the purpose of it," he said. "If (police) want to tell us to leave, we'll keep farming, and they'll have to make a decision what to do."
Tucked in there is an idea of freedom and choice that's central to food sovereignty. The food system is filled with choices made by a handful of powerful people, in smoke filled rooms, over the objections of the majority. What the occupation is doing is making these decisions public.
I asked who'd be receiving the food grown on the occupied land. One organizer, who didn't want to be identified because her job was with the university, said that who gets the food should be a community decision, answered with words that might be the bumper sticker for food sovereignty: "We thought it was wisest to leave that open".
_________________________
ACTION ITEM:
The University has shut off the water supply. The occupiers are asking for your support: please call the University Chancellor on 510 642 7464 to ask that the water be turned back on.
Press release below. To find out more, share the news and find out how you can support the Occupation, visit www.takebackthetract.com
_________________________
For Immediate Release
April 22, 2012
Occupy the Farm Activists Reclaim Prime Urban Agricultural Land in SF Bay Area
(Albany, Calif.), April 22, 2012 – Occupy the Farm, a coalition of local residents, farmers, students, researchers, and activists, are planting over 15,000 seedlings at the Gill Tract, the last remaining 10 acres of Class I agricultural soil in the urbanized East Bay area. The Gill Tract is public land administered by the University of California, which plans to sell it to private developers.
For decades, the UC has thwarted attempts by community members to transform the site for urban sustainable agriculture and hands-on education. With deliberate disregard for public interest, University administrators plan to pave over this prime agricultural soil for commercial retail space, a Whole Foods, and a parking lot.
"For ten years people in Albany have tried to turn the Gill Tract into an Urban Farm and a more open space for the community. The people in the Bay Area deserve to use this treasure of land for an urban farm to help secure the future of our children," explains Jackie Hermes-Fletcher, an Albany resident and public school teacher for 38 years.
Occupy the Farm seeks to address structural problems with health and inequalities in the Bay Area that stem from communities' lack of access to food and land. Today's action reclaims the Gill Tract to demonstrate and exercise the peoples' right to use public space for the public good. This farm will serve as a hub for urban agriculture, a healthy and affordable food source for Bay Area residents and an educational center.
"Every piece of uncontaminated urban land needs to be farmed if we are to reclaim control over how food is grown, where it comes from, and who it goes to," says Anya Kamenskaya, UC Berkeley alum and educator of urban agriculture. "We can farm underutilized spaces such as these to create alternatives to the corporate control of our food system."
UC Berkeley has decided to privatize this unique public asset for commercial retail space, and, ironically, a high-end grocery store. This is only the latest in a string of privatization schemes. Over the last several decades, the university has increasingly shifted use of the Gill Tract away from sustainable agriculture and towards biotechnology with funding from corporations such as Novartis and BP.
Frustrated that traditional dialogue has fallen on deaf ears, many of these same local residents, students, and professors have united as Occupy the Farm to Take Back the Gill Tract. This group is working to empower communities to control their own resilient food systems for a stable and just future – a concept and practice known as food sovereignty.
Occupy the Farm is in solidarity with Via Campesina and the Movimiento Sin Tierra (Landless Workers Movement).
The Gill Tract is located at the Berkeley-Albany border, at the intersection of San Pablo Ave and Marin Ave.
Contacts:
Gopal Dayaneni:
510-847-3592 /
gopal.dayaneni@gmail.com
Lesley Haddock: 707-293-3253/lesley.lives@gmail.com
Anya Kamenskaya: 415-812-4793 / anya.kamenskaya@gmail.com
Twitter: @OccupyFarm
Facebook Page: Gill Tract Farm
Website: TakeBacktheTract.com
Email: GillTractFarm [at] riseup.net
http://www.TackBacktheTract.com